TROIKA is a renowned company that specialises in the production of high-quality key rings.
With a wide range of innovative designs and excellent quality, TROIKA has achieved a leading position in the key ring market.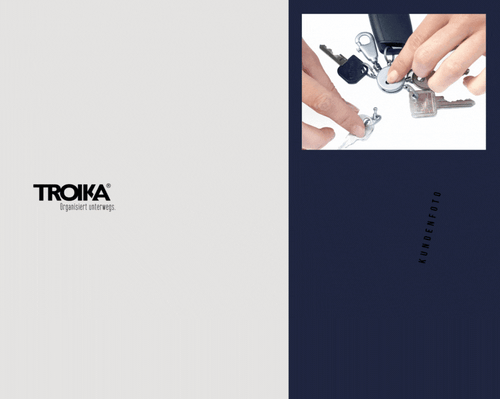 - high quality materials
- careful processing
- durable products
- many years of experience
- wide range
- high quality
- market leader in the key ring industry
If you are looking for a high-quality and unique key ring, TROIKA is the perfect choice. You can be sure of getting a top quality product that is both functional and aesthetically pleasing.
For many years, TROIKA has maintained a successful partnership with VW Volkswagen and the renowned HARIBO company. Together, we have developed a variety of unique products that embody the distinctive style of both brands. Our collaboration has resulted in a wealth of wonderful products that equally represent the charm of VW and the sweetness of HARIBO.
We have something suitable for every taste and every need in our range, practical helpers in everyday life:
1.

Keychain animals
2.

Outdoor keychain tools
3.

Emotional key rings
4.

Key ring lucky charm
5.

Electronic, functional key rings
Click here for the current key ring catalogue.

There are many exciting new products coming in September - feel free to check back then!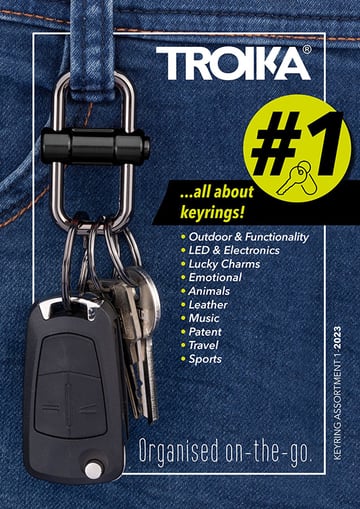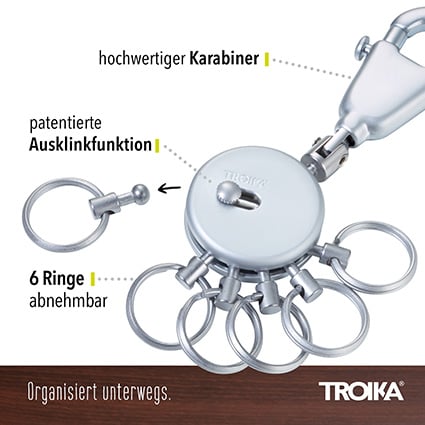 This makes even the largest bunches of keys easy to handle - PATENT has a snap hook and 6 releasable rings. Each can be unhooked individually in a flash, you always keep the "key position". Uncomplicated type, attractive and versatile, seeks fashion-conscious key. There's hardly a better way to describe the PATENT key rings from TROIKA. The mechanism works amazingly simple and fingernail-safe. The look ranges from classically elegant to colourful and trendy. There's really only one thing left to do: hang in there, keys!
Customer feedback: "Dear TROIKA team, I received the pendant (in this case a JUMPER) as a gift in the summer of 1998 and am very pleased that I was able to replace the loop after such a long time (and that it was only necessary now). So I've been wearing the pendant in my pocket for almost 25 years, it's been subjected to a certain amount of wear and tear. How nice when you can rely on quality and longevity and the service also works out so well. Thank you very much and best regards A. M."
So - give yourself a little hang out ;-)

Your TROIKA team